A photo that shows an ID badge or retail product with a barcode visible can be used to obtain useful information.
Barcodes can be read from photos posted online by using one of the numerous websites (such as Online Barcode Reader by InLite). These sites require that you choose what kind of barcode you want read and then upload a photo with the barcode. Barcodes usually use known patterns for encoding information such as these below:
The next question is what to do with the encoded information?
If the barcode is on an ID, it may translate to a random number. This is unfortunate because the number is often an account that is only useful if you have access to the relevant associated database, which is probably private.
Drivers Licenses, Military, and Various Other IDs
Alternatively, the barcode may translate directly into identifying information about the ID holder. This is the case with U.S. drivers licenses, military, and other IDs. With a U.S. drivers license the barcode will provide you personal information about the license holder (name, address, date of birth, physical description) and about the license itself (date of issue, date of expiration).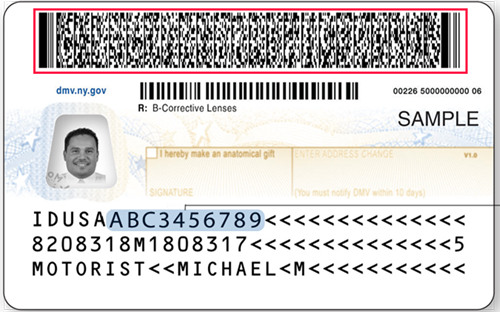 Additionally, according to InLite, checking information is often encoded into "MICR lines" that includes data about financial accounts and/or transactions.
Retail Products
For a retail product, the barcode can be used to look up the manufacturer and a basic description about the product. The barcodes for retail products represent identification numbers that can be looked up in public databases.
So if a product's barcode is visible in a photo a researcher can use something like InLite to lookup what number the barcode represents and then go to a site like Barcodelookup.com to lookup the number itself.
According to Barcodelookup.com,
A product's packaging may not tell you everything you need to know about that product — where it comes from, how well it works or how it's priced at other stores. Enter any product's UPC, EAN or ISBN code into Barcode Lookup, and find all kinds of information about the item including its manufacturer, name, description, photos and customer reviews. We even show you links to online stores where you can buy the same item.
This is often used to identify the general location of a photo based on the location of the manufacturer or retailer.